International Trade Networking Reception
September 12 @ 5:30 pm
CDT
/
$30
Event Navigation
This event is being held in-person and is open to everyone.
Looking for a  chance to gain exclusive insight into Biden Administration priorities for international trade and to network with leading business executives? This networking event at Lake Monster Brewing is hosted by the Minnesota District Export Council and the U.S. Commercial Service – Minnesota in partnership with Global Minnesota. This event follows shortly after a formal presentation, "Building Bridges to Global Markets," earlier in the day at Metro State University.
The reception will feature a discussion with a senior U.S. Department of Commerce trade official, Marisa Lago, Under Secretary, International Trade Administration/U.S. Department of Commerce (expected). Her conversation will focus on the strategic priorities of the ITA and how they impact and support local communities, businesses and entrepreneurs to compete in the global marketplace. Ticket price includes admission, one free drink ticket, and light appetizers.
Speaker (expected)
Marisa Lago is the Under Secretary of Commerce for International Trade. She was appointed by President Joseph R. Biden Jr. and sworn in on Dec. 28, 2021. She leads the federal government's efforts to assist American businesses entering or expanding into international markets, enforce fair trade policies, promote travel and tourism to the United States and U.S. products and services overseas, provide in-depth trade analyses, develop strategies that will shape the future of international trade, and engage in commercial diplomacy across the globe.
Under Secretary Lago has a distinguished career in public service with expertise in international markets, trade, financial regulation and enforcement. Before joining the International Trade Administration, she led the New York City Department of City Planning and the City Planning Commission. In the Obama-Biden Administration, she served in the Department of the Treasury as Assistant Secretary for International Markets and Development.
Lago has also served as the Director of the Boston Redevelopment Authority and Chief Economic Development Officer for the City of Boston, President and CEO of the Empire State Development Corporation, Director of the Office of International Affairs for the U.S. Securities and Exchange Commission, and Global Head of Compliance for a major investment bank.
She received a Bachelor of Science in physics from The Cooper Union and her juris doctorate cum laude from Harvard Law School.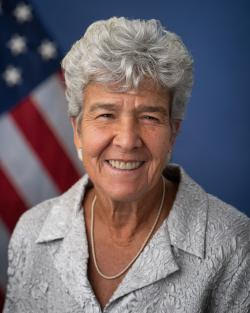 If you require an accessibility accommodation, please contact our Events Manager Katie Kelley at kkelley@globalminnesota.org.
Presented in partnership with the Minnesota District Export Council and the U.S. Commercial Service – Minnesota.