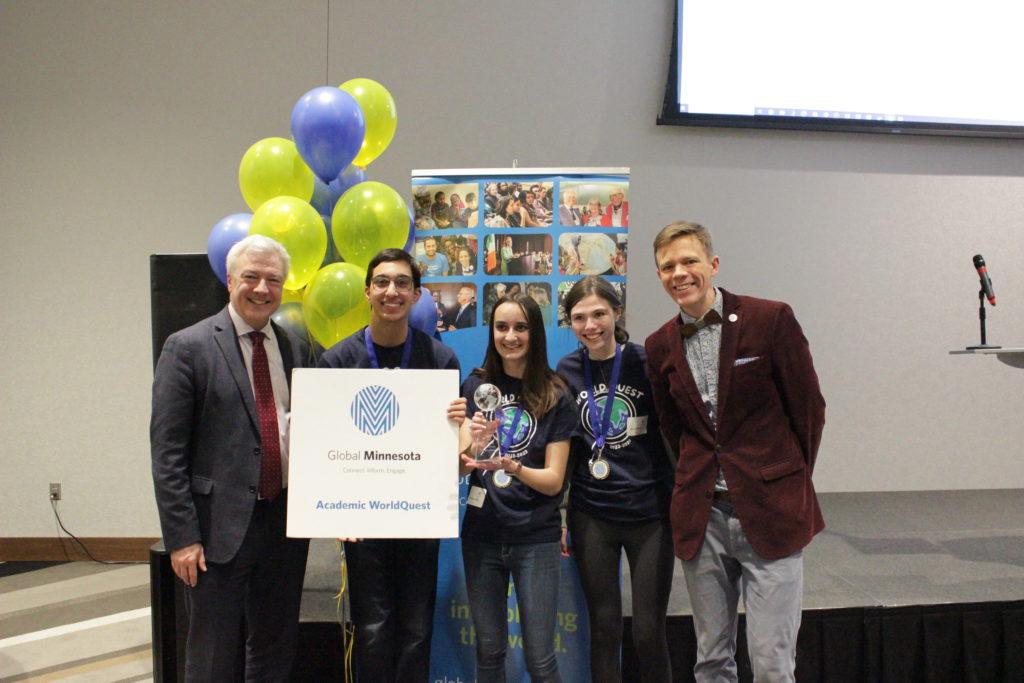 MINNEAPOLIS, March 7, 2023 – High school students from Edina High School were named champions of Global Minnesota's statewide Academic WorldQuest international knowledge competition on Wednesday, March 1, 2023, and will now advance to the national tournament in Washington, D.C.
Academic WorldQuest is a nationwide knowledge competition that challenges high school students to think globally about critical issues facing the U.S. and the world. Students participate by answering a series of multiple-choice questions on international topics. Nearly 30 high school teams from a dozen schools across the state engaged in a battle of wits to answer questions on this year's topics including: Climate Change, The New Space Race, and current events. Minnesota's statewide competition was held in both a virtual setting and in-person at the Mall of America, a co-sponsor of this year's event.
Edina Team A took home the top prize. Their team will represent Minnesota at the national competition in Washington, D.C., sponsored by the World Affairs Council of America. The competition takes place on April 29, 2023, with all expenses covered by Global Minnesota. Team members are Raja Chinnakotla, Emma Brenner, and Katerina Duda, along with their team's teacher sponsor Theresa Kingsbury.
Nova Classical Academy Team A and Rochester Mayo Team D came in second and third place respectively.
Global Minnesota's president, Phil Hansen, remarked, "Every year, these students demonstrate an amazing wealth of knowledge about important international topics and world events. Teams from across the entire state brought excitement, camaraderie, and global understanding to tonight's event. Their interest and commitment is an inspiration for the next generation of global leaders."
Teams participated from cities such as Apple Valley, Burnsville, Edina, Grand Rapids, Osseo, Minneapolis, Rochester, and St. Paul.
Global Minnesota has connected, informed, and engaged Minnesotans and international visitors for over 70 years. The organization brings the world to Minnesota through public events, K-12 education programs, professional exchanges with international visitors, and grassroots foreign policy discussion groups. Global Minnesota is proud to serve as the Minnesota coordinator for Academic WorldQuest in partnership with the World Affairs Councils of America.
Visit www.globalminnesota.org/education/high-school-programs/academic-worldquest/ for team standings and competition photos.
Photo credit: Global Minnesota