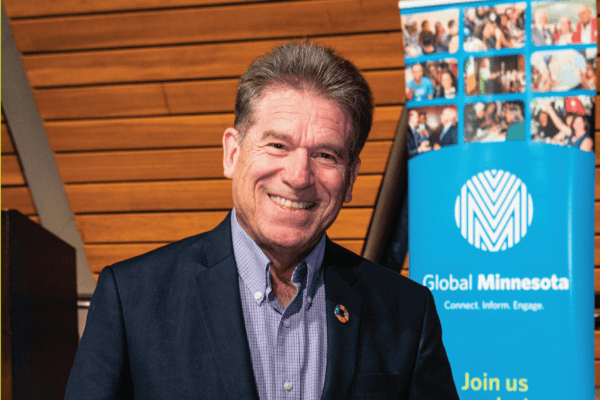 MINNEAPOLIS, April 20, 2022 – Global Minnesota announced that plans are underway for the retirement by President Mark Ritchie before the end of 2022.  Throughout his career, Ritchie has championed Minnesota's heritage as one of the world's most globally minded places, working tirelessly to ensure a warm welcome for people from every corner of the planet. Ritchie led Global Minnesota through the challenges of the pandemic, transforming program delivery with new digital tools that expanded the organization's work of connecting Minnesotans to the world, and the world to Minnesota.
"It has been my honor to lead this wonderful organization," explained Ritchie. "Throughout my life I've been passionate about all things international.  Global Minnesota's mission, 'Advancing international understanding and engagement' gave me the opportunity to pursue my lifelong passion for deepening people-to-people connections worldwide. For over 70 years, Global Minnesota has been one of our nation's premier World Affairs Councils. I'm grateful for the opportunity to help expand Global Minnesota's worldwide recognition for excellence in thought-leadership and effective action on a wide range of issues – from food security and climate, to deepening people-to-people relationships and advancing the Global Goals for Sustainable Development."
Under Ritchie's leadership, Global Minnesota has welcomed hundreds of international visitors – from Heads of State and diplomats to international students and business leaders – as the US State Department's partner hosting our nation's official guests visiting Minnesota.
Global Minnesota has also expanded its educational programs with timely events on international affairs including expert presentations and global symposia for World Food Day, International Day of Education, World Health Day and International Day of Persons with Disabilities. These have drawn thousands of participants to engage in global topics statewide and around the planet. Retired Ambassador Ross Wilson, Chair-elect of Global Minnesota's Board of Directors, noted that "Global Minnesota's events and programming maintain the highest standards of fact-based information and timely analysis of global events. Their work is invaluable to keeping Minnesota engaged with the world."
Global Minnesota's Board of Directors has begun the process of choosing a successor. Board Chair Martha (Muffy) MacMillan commented, "Mark's transformative leadership during this period of great uncertainty has created a strong future for Global Minnesota. He is truly a citizen diplomat at his core. We wish Mark all the best in the next chapter of his life, knowing he will remain globally engaged. The organization will continue its excellent work and build on Mark's success under new leadership."
Photo credit: Global Minnesota