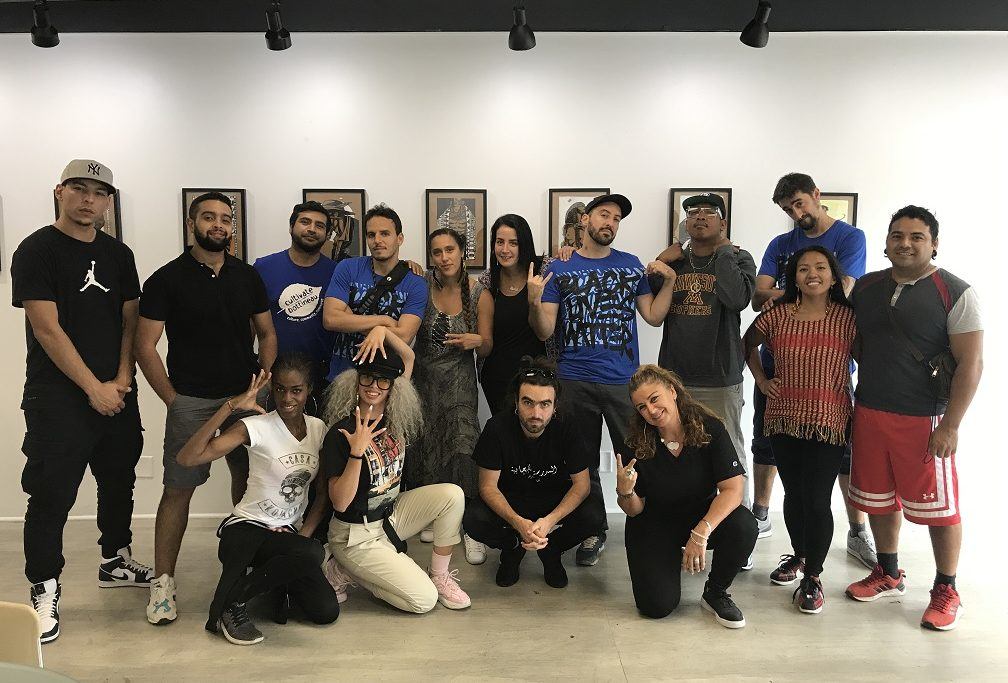 By Laurel Stoneking
Professional Exchanges Manager at Global Minnesota
Top photo: International visitors from Belgium, France, Morocco, and Spain visit Indigenous Roots Cultural Arts Center as part of the Communities and Youth Promoting Hip-Hop and Resilience (CYPHER) exchange program.
"Our Spanish visitor, the graffiti artist, is asking if you can provide a wall for him to paint. He wants to commemorate his time on the project and provide artwork for the local community. Is that something you can do?" Two days before a group of visiting artists were set to land in Minneapolis, I received a call from our national program agency with this request. I wondered, where in the world could we find an open wall with a willing shop owner? And were there legal ramifications to consider? But, what an amazing opportunity this could be for our community! We had to find a wall. As we started outreach, I was reminded of how every group of international visitors that Global Minnesota hosts has a unique impact on our community, often in ways I never expect.
You may know that Global Minnesota hosts hundreds of international visitors each year. But do you know what types of groups or industries they represent? Or how they come to Minnesota? Or how a program is put together for them, including who they meet?
Global Minnesota is one of 84 organizations across the United States that hosts emerging leaders through the U.S. Department of State's International Visitor Leadership Program (IVLP). IVLP programs and topics are chosen by the Department of State (DOS) and are based on the presidential administration's foreign policy priorities. Every year is different and topics range from Entrepreneurship and Sustainability to Agriculture, Government Leadership, and Foreign Policy Challenges. Global Minnesota typically welcomes around 400 of these visitors each year as part of our Professional Exchanges program.
Global Minnesota also hosts custom exchange programs that may still be supported by DOS funding but are put together in partnership with public and private institutions. We have coordinated with the Fulbright Visiting Scholar Program, Young Leaders of the Americas Initiative (YLAI), and the Foreign Service Institute, and have worked with U.S. Embassies around the world.
Visitors come on 2 to 3 week, multi-regional, regional, or single country projects with 5 to 15 participants on average. In 2019, Spanish visitor and artist Mr. Iñigo Loron Díaz participated in the IVLP as part of the Communities and Youth Promoting Hip-Hop and Resilience (CYPHER) program – a brand new project we hosted that aimed to build a network of emerging artists to build resiliency for at-risk youth in their home countries. The CYPHER project was a multi-regional program of two liaisons and 11 visitors from Belgium, France, Morocco, and Spain. The group's description caught our eye in the DOS database, where all projects are listed for the year, because we try to host at minimum two new topics annually. For each group we want to host, we submit a proposal detailing why the group should come here, and what resources, speakers, and leaders we have for the group to engage with and meet.
Being notified that we are hosting a project 2 to 4 weeks before the visitors arrive means we start outreach to our local speakers and organizations immediately. Coordinating transportation, hotel rooms, and booking three meetings each business day for the group are part of our core responsibilities. On a daily basis, we work with our national agency partners in Washington, D.C. who oversee entire projects during their time in the United States. We get creative with meetings for meaningful interactions, so the CYPHER visitors received a backstage tour of the Ordway, had an interactive discussion with Juxtaposition Arts, spoke with vocal artist Desdamona about her creative process, and filmed part of a music video at Indigenous Roots Cultural Arts Center after a walking tour of the murals in the neighborhood.
Over the few days the visitors are in the Twin Cities, we offer an extensive list of cultural activities and community engagement opportunities. Since the CYPHER artists were in Minnesota in late September, we suggested they visit Afton Apple Orchard, walk around Lake Harriet, tour the Minnesota State Capitol, peruse the Midtown Global Market, experience the Dakota jazz club, or shop on Grand Avenue. If a group is in town over the weekend, we may also schedule a dinner hosting opportunity with Global Minnesota members.
We would not be able to create this complex programming without wonderful Minnesotan individuals, businesses, and organizations being willing to donate their time and share their work with others. Not only did Indigenous Roots Cultural Arts Center welcome the CYPHER group into their space like old friends, but they reached out to their community members and found Iñigo a wall to paint on the outside of a local shop.
Iñigo spent more than three hours spray painting to commemorate the visitors' time in Minnesota and interacted with anyone walking by who paused to ask him about his work. To acknowledge the area surrounding his art, Iñigo added the neighborhood's nickname "East Side" to his piece at the shop owner's request. Inigo's artwork contributes to the existing cultural corridor of the East Side neighborhood among other stunning murals completed by Latino artists. You can view Iñigo's mural today on the north corner of East 7th Street and Arcade Street, down the street from Indigenous Roots and the Consulate of Mexico in St. Paul.