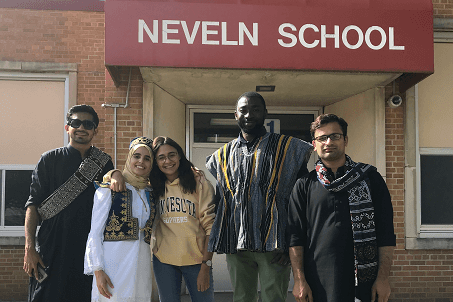 By Sylvia Oxenham
K-12 Education Manager at Global Minnesota, and Native of Germany
Top photo: International volunteers Abdul Saboor, Ines, Rahma, Gabriel, and Muhammad Ahmad gather outside of Neveln Elementary in Austin, Minnesota, during a Classroom Connection World Cultures Day visit.
It's early morning, the sun is not up yet, and I find myself scrambling to collect the necessary items for my "mobile coffee bar." I am a little shaky. Getting up at 4:40 am is not my usual wake-up time and something in me is protesting. Finally, I have packed my little wooden IKEA crate with a thermos of coffee, cups, sugar, milk, and some mini muffins. It is September 27, 2019, and I am on my way to meet Global Minnesota's international volunteers for a daytrip down to Austin, Minnesota.
Today's entourage includes Mekdelawit Daniel from Ethiopia; Rania Hattab, Rahma Hamdani, and Ines Rahmouni from Tunisia; Maho Otsuka from Japan; Abdul Saboor Ahmed and Muhammad Ahmad Raza from Pakistan; and my esteemed colleague Gabriel Maanibe from Ghana in his role as Global Minnesota's International Fellow on staff. Tim Odegard, Program Director, has kindly volunteered to be the second driver for the day. The plan is to visit Sumner and Neveln Elementary schools in Austin and to spend the day connecting with students in second, third, and fourth grades. We divide up into two groups and at 6:30 am sharp we head down to Austin. In my car, Mekdelawit (or Mekdi for short), Rania, and Maho are understandably sleepy and quiet at first, but once one of them pours the first cup of coffee the atmosphere becomes distinctly more lively.
The visit to Austin is part of Global Minnesota's Classroom Connection World Cultures Day and is organized in partnership with Global Minnesota corporate member Hormel Foods Corporation. Most of the volunteers who signed up to be part of today's program are one-semester exchange or non-degree students from the University of Minnesota. Some are here on special scholarships and were looking for a community service opportunity. Others just enjoy spending time with young kids. But all are very excited about the chance to see more of Minnesota and share information about their home countries and cultures.
The drive down to southeast Minnesota is beautiful. As the sun rises and fall colors start to lighten up the trees, my passengers put down their phones and start looking at the Minnesota landscape rolling by. "It's so beautiful here!" one of them exclaims. However, presenting in front of a class of elementary students with no prior experience and in a foreign language is no easy feat, and several of them are getting nervous. "Will the kids be interested? How will they behave? Will they understand my accent, and what if they don't like me?"
Luckily, the welcome in Austin could not be nicer. Once we arrive, we are greeted by Sheila Berger, the Principal at Sumner Elementary, and are directed to a room where we can leave our things and take a break between classes. The schedule for the day is busy. Between 9:00 am and 12:30 pm Rania, Mekdi, and Maho will each visit three classes in back-to-back sessions with only a short break in between.
I sit in class with Maho. She looks nervous. "Hello, my name is Maho. How are you this morning?" Her voice is quiet. "I am from Japan. Does anybody know where Japan is?" Maho pulls up the world map in her PowerPoint and has the students take a guess on which continent Japan can be found. Soon they talk about her traveling to Minnesota, how long it took her to get here, and what the time difference is. Maho is visibly more relaxed by now. She shows them pictures of her family and teaches them how to greet others in Japanese. Maho is fascinated by how fast the children learn the Japanese words. Then she talks about the things she eats for breakfast, what a school day looks like in Japan, that "Randoseru" is the signature backpack of elementary students there, and that Japanese students change to indoor shoes when entering the school building. Then it's time to learn the morning greeting. Maho explains that all students in Japan have to stand up together, wait for everybody to be ready, and then greet the teacher with "Ohayou Gozaimasu." Only then do they sit down. She asks the students to try it with her and the classroom teacher seems to enjoy the special treatment.
While Maho discusses what kids in Japan learn in school, everyone discovers that there are a lot of similarities between the U.S. and Japan – not so different after all! The students continue to have questions: "Do you have McDonald's? Where is your mom? What animals live in Japan?" It's hard to stop them but Maho wants to use the last 10 minutes of her visit to teach the children how to use chopsticks. And so, sets of chopsticks quickly circulate the room and everyone is busy trying to get the hang of it. Maho's session zooms by and pretty soon it's time to learn goodbye in Japanese before she heads over to the next class.
Over at Neveln Elementary, Abdul Saboor and Muhammad Ahmad introduce Pakistan with the utmost passion. They play Pakistani music and show the students a fun dance commonly used at festivities. In no time, the kids are on their feet dancing around the class. Everybody really enjoys the experience. Abdul Saboor and Muhammad Ahmad also get a great workout after visiting – and dancing – with four classes.
Mekdi, Rania, Maho, and I head downtown for a coffee break after their last session. We need to wait for the other volunteers who still have one more class to visit and decide to pass the time with some sightseeing. I watch the girls take and share pictures on Instagram while pointing out things that look different to them – the beautiful architecture, flower baskets, a painted bench…so much excitement! We get some candy at Sweet Reads, a bookstore on Main Street with a wonderful blend of new and used books and art, and then meet the others for a tour of the famous SPAM Museum.
The drive back to Minneapolis is quick. The volunteers are exhausted but full of stories from their classroom experiences. Mekdi recounts that she received tips from compassionate students on how to survive the cold long Minnesota winter, including the advice not to eat snow if it's yellow. We end the long day with lots of anecdotes and laughter, and the good feeling that we made new friends across cultures and memories to last a lifetime.
While the ability to connect with others looks a bit different these days, Global Minnesota is committed to bringing Classroom Connection and World Cultures Day to schools this fall as a virtual experience. We look forward to connecting more international volunteers from around the world with teachers and students across Minnesota with facts, fun, and engaging new activities.