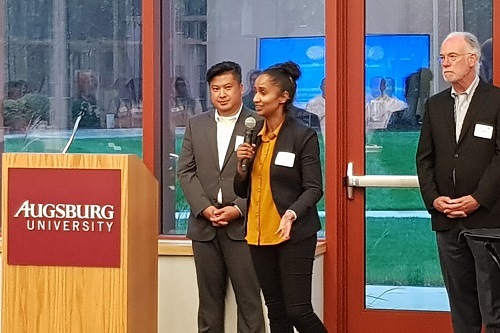 By Ruth Rajaysur
Minneapolis and Minnesota are names of places I often heard or saw in the movies or in international news, but I had never dreamed of flying there. My name is Ruth Rajaysur and I am from an island nation called Mauritius, which is situated off the east coast of Africa. My background is in journalism, so I was very excited to be chosen by the U.S. State Department's International Visitor Leadership Program to get to know American media organizations. Minneapolis is one of the four areas I was fortunate enough to visit.
My first encounter with Minneapolis was a rather surprising one. I was greeted with crazy weather that I've never experienced before. But the next day I discovered the skywalk and that became my route every day in the city.
My two-day program in the city and my exchanges with different people have helped me expand my knowledge on media and also equipped me with skills that I can use back in Mauritius.
First, I met with a local news editor from the Pioneer Press. He gave me insight into how a 200-year-old newspaper has stood the test of time despite social issues, the recent pandemic, and the rise of the internet. What really fascinated me is that, despite everything moving online, there are still those who are interested in reading a physical newspaper in their hands. I agree that there is no better feeling and that you understand better when reading the newspaper. In today's busy and hectic world, the news needs to be short, precise, and concise. The Pioneer Press has evolved with time by going digital. I also had the chance to talk to a young intern at the Pioneer Press. It was fascinating to hear how she jumped right into the job and the support she receives from her editors. Her story is the same way I started in the media.
Another interesting visit was at MinnPost, another local news site. I heard from their editor about how the 15-year-old website is funded by relying mostly on sponsorships. It is amazing how people in Minnesota continue to support these media entities. Although journalists are being criticized rightfully or wrongfully at times, the media continue to play a very important role in the lives of local residents.
The highlight of my first day in Minneapolis was staying at the home of Tom and Kris for a Home Hospitality evening. It was our first encounter with an American family. Since being in the U.S., the visiting journalists had always been together and this was the first time we were all separated and at different places. The dinner was fantastic and the time flew by with our hosts. We were warmly welcomed into their home. Tom was once an editor himself and took me and the others for a house tour, showing us the art in their home and sharing his passion for travelling and for photography. At the dinner table, we shared our background, our culture, and boasted about our country, but also spoke about the challenges that we face as journalists in our different countries. We ended our visit with a photo shoot session in the kitchen. What a fun night!
I am also grateful for the opportunity to meet up with leading faculty of the Hubbard School of Journalism at the University of Minnesota. What inspired me during the exchanges, was what they said about the internet. They remarked that it is just a tool and not the media itself. They also mentioned that journalists do make mistakes, but it is the mission of the journalist to equip people with factual information and context.  Most of all, journalists need to be truthtellers.
Meeting up with the staff of Minnesota Public Radio was also inspiring, especially regarding the radio's approach concerning the diverse cultures that reside in Minnesota. I learned that MPR is exploring programming in other languages including Hmong, Somali, and Spanish. The radio is also emphasizing the importance of art and culture by promoting local artists. Their huge newsroom is impressive compared to mine back in Mauritius.
Finally, we concluded the trip with a Global Social event hosted by Global Minnesota and Augsburg University. It was an occasion to meet Global Minnesota members and the Fellows from the Hubert H. Humphrey Fellowship program in Minnesota. It was fascinating to see how such an event can bring together people from all different walks of life and different cultures. It was a lovely evening with exchanges of experiences and ideas. I was surprised that even in 2022, Mauritius is still unknown to many people, but I was able to put my country on the map during a speech I gave at the event. Most importantly, this event and my entire experience, made me realize that journalism and journalists are very much valued by the people of Minnesota.
*Note: The visiting group was split into smaller groups and other members met with organizations like Sahan Journal and KARE 11. Thanks to all of these organizations for meeting with the visiting journalists and for the U.S. State Department's International Visitor Leadership Program.