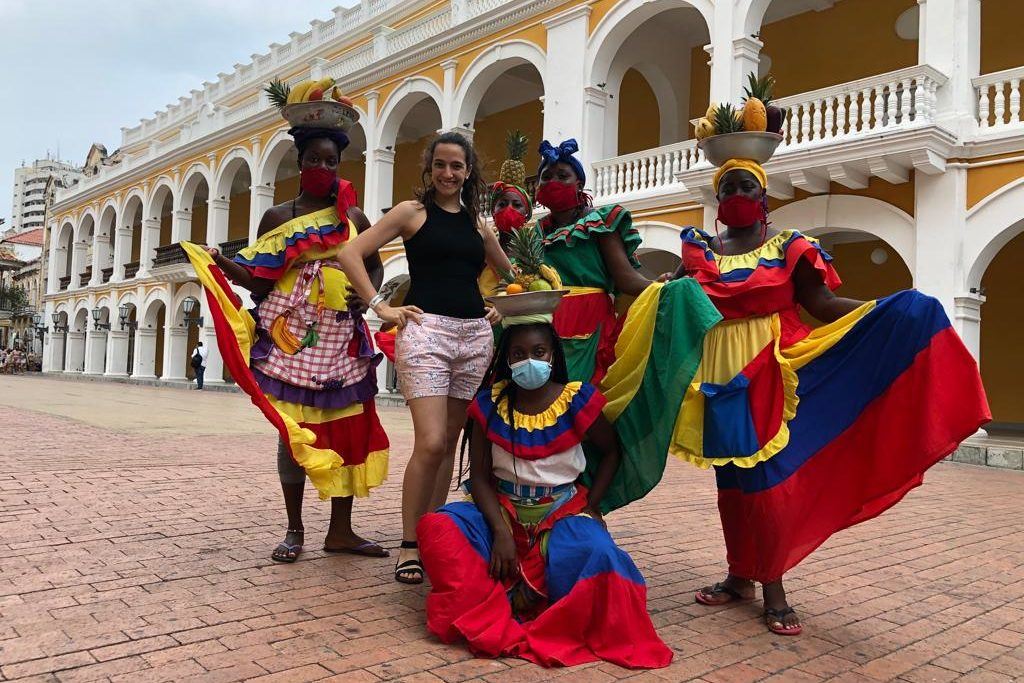 By Ariadna Botero
I joined Global Minnesota as a volunteer four years ago. It was my first year at the University of Minnesota, and I was starting my Ph.D. in Plant and Microbial Biology. I can't remember clearly how I learned about the volunteer program but I am so glad I did. Being a volunteer in Global Minnesota has for sure been one of the major highlights of my life in Minnesota. It has certainly been a memorable experience that has added warmth to the cold winters in Minnesota.
During my time volunteering with Global Minnesota, I had the privilege of visiting numerous schools in the Twin Cities with Sylvia Oxenham, our volunteer program leader. Through presentations, interactive activities, and storytelling, I shared the rich history, diverse traditions, and captivating landscapes of Colombia, my home country. Witnessing the students' curiosity and genuine interest in my country was truly heartwarming. And it was surprising to learn how much kids know about the world and about Colombia. I enjoyed engaging with enthusiastic students who were eager to learn about different cultures. My experience as a volunteer was an opportunity to represent my culture and to inspire future global citizens to embrace diversity and celebrate our interconnected world. As an international student I was motivated with the idea of sharing the vibrant culture of my country. As a proud Colombian, I believe in the power of cultural exchange and the importance of nurturing global perspectives. Colombia, as many other countries in the world, has endured the weight of violence and corruption for more than 6 decades. This has resulted in significant damage to my country's reputation. But Global Minnesota has offered me and many other international students an ideal opportunity to change the perspective other people might have about our countries of origin, to engage with students, promote intercultural understanding, and broaden their horizons.
Recently, I had the honor of receiving the prestigious Mestenhauser Award for Excellence in Campus Internationalization, which recognizes the outstanding contributions made towards globalizing the University of Minnesota. Definitely, the experience of volunteering with Global Minnesota played a crucial role in my achievement of winning the award. As soon as I got the email from the Global Programs and Strategy Alliance, notifying me of the award, I emailed Sylvia to share with her the amazing news. And in return I received a more surprising email. In her response Sylvia told me that Josef Mestenhauser, the creator of the award, was also a founding member of Global Minnesota! It confirmed to me once more that our world is so big and so small at the same time. Winning the Mestenhauser Award for Excellence in Campus Internationalization was an inspiring experience. It serves as a testament to the dedication and passion I have poured into globalizing the University of Minnesota community. This recognition has not only reaffirmed my commitment to fostering cross-cultural connections but will hopefully open new doors for further collaborations and opportunities to make a lasting impact. The award has also fueled my determination to continue working towards creating a more inclusive and globally aware society.
As I reflect on my journey with Global Minnesota and the honor of winning the Mestenhauser Award, I am filled with gratitude. The experiences I have had and the connections I have made through this organization have shaped me in profound ways. Many of my most fond memories from Minnesota will be the ones created during my school visits with Global Minnesota. Sylvia has been an incredible role model for me, and I am even copying her idea of a mobile coffee station in my car (whenever I buy one). Fresh coffee in the early mornings before going to the schools was a real treat! And if you are reading this and don't know what I am talking about, it's time to become a volunteer so you can experience it yourself.
Moving forward, I am inspired to amplify my efforts in fostering global understanding, promoting cultural exchange, and embracing the beauty of our diverse world. My involvement with Global Minnesota has been a transformative experience, allowing me to share my Colombian heritage and passion for global engagement with children that will hopefully become global citizens. Winning the Mestenhauser Award has not only provided recognition for my contributions but has also ignited a renewed commitment to internationalization. I encourage each of you to explore opportunities for cross-cultural engagement and embrace the power of global connections. Together, we can build a more inclusive, understanding, and interconnected world.
If you would like to learn more about the award and my work at the University of Minnesota, please visit: https://global.umn.edu/awards/mestenhauser/ariadna-mondragon-botero, or get in touch with me @BoteroAriadna (Twitter).