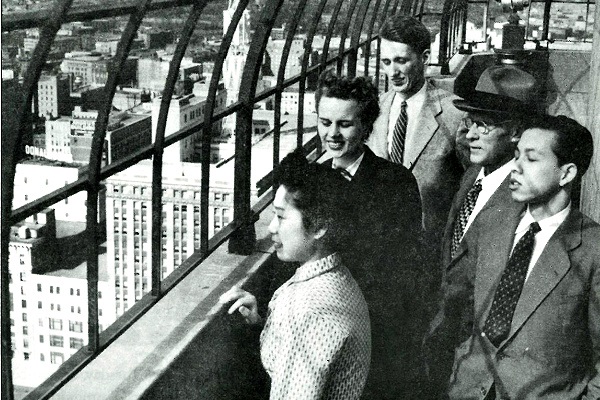 By Mark Ritchie
President, Global Minnesota
Global Minnesota turns 70 this year. Gladys Brooks, the first Board Chair, captured the essence of our origin in a short history she prepared for those of us coming along later. Known as the Minnesota International Center early on, our original purpose was to welcome international students as they arrived at the University of Minnesota. "They came as strangers, may they leave as friends," was a motto and North Star for our founders.
While the scale of our work has changed, our values have not. We're still welcoming strangers and creating lifelong friendships with people from every country. Today, we do this more on the basis of a two-way street that connects Minnesotans to the world and the world to Minnesota.
On New Year's Day, I spent many wonderful hours diving into our history over these seven decades. It was inspiring and energizing, giving me a sense of some of the roads we've traveled. My main takeaway from all of that wonderful history is that we've grown in two ways. First, we expanded our focus to welcome all kinds of new arrivals: Short-term guests such as international visitors coming from the State Department, and longer-term visitors such as students and others who come for an extended period of time. Second, we recognized the value of all of these visitors to our region from an educational perspective; this has guided us toward an extremely wide range of public education programs from kindergarten to C-suite.
The worldwide pandemic this year forced us to rethink how we could safely offer effective programs. As often happens, a difficult situation brought forth some new thinking that ultimately helped us reach out to new audiences. We adapted our work — using more technology and less in-person programming — that allowed us to actually increase the scope of incredible presenters for our community and share our fantastic educational programs with people around the world. As a recent example, along with our partners UNESCO and Education International, we virtually celebrated International Day of Education on Monday, January 25. Streamed online, this international symposium explored creative and inspiring ways educators and students around the world can create the future of learning.
The global theme of this special day, established by the official host organization UNESCO, was "Recover and Revitalize Education for the COVID-19 Generation." Meeting virtually, people around the planet tackled urgent questions about how we move beyond disruptions created by the pandemic with a mindset guided by a vision of "Rebuilding Better."
The global heads of UNESCO and Education International kicked off our day, followed by workshops, panels, and presentations from the frontlines — the people who are creating the future of learning. Presenters delved into the current state of international students, both in the United States and worldwide. A list of the confirmed speakers and agenda is available here: International Day of Education Symposium.
One of the important things about this special day was the opportunity for Global Minnesota to bring public attention to the very wide range of educational activities with which we engage.
One of our most exciting educational programs is Classroom Connection. This dynamic program engages international students from colleges and universities around the state in cross-cultural learning experiences in classrooms across the Twin Cities and Greater Minnesota. Classroom Connection is Global Minnesota's signature elementary education program. It is a resource for teachers and also a wonderful way to connect international students and scholars in a meaningful way with their host community.
With each visit, the program introduces international students from the University of Minnesota, other area colleges and universities, or members of Minnesota's globally diverse community with schoolteachers in Minnesota. The volunteers represent many countries and cultures, and also bring their own areas of expertise (engineering, science, education, languages, economics, and more). They serve as excellent role models, reflected by their own academic or life achievements.
 Teachers integrate global perspectives into lessons they are already planning to teach OR they simply take Classroom Connection as an opportunity to explore the world with their students. Social Studies classes may learn about landforms and landmarks, animals and their habitats, urban and rural living, food and produce, population and climate, and many other topics. Literature students may read a story from Denmark with a Danish volunteer or uncover stories from Zambia with somebody who lives there. Many of our volunteers have science or engineering backgrounds, providing a positive effect and often promoting STEM careers and education.
 Teaching information and new skills is only one aspect of Classroom Connection. It also provides the opportunity to exchange ideas and viewpoints, setting a stage for respectful interaction across different cultures. It dispels stereotypes, provides a more global perspective, helps to celebrate diversity within the classroom, and promotes mutual understanding and respect, thereby enhancing global awareness for all participants.
The program continues to grow in numbers as well as in its geographic reach. The data collected over several years show a clear positive trajectory in knowledge, skills, and disposition before and after the visits, and confirms Classroom Connection as a valuable and unique educational tool to enhance global competence.
Last year, our international volunteers represented 19 different countries and regions:
Argentina
China
Colombia
Denmark
East Timor
Ethiopia
Ghana
Guatemala
Indonesia
Israel/Palestine
Japan
Kazakhstan
Mexico
Pakistan
Russia
Serbia
South Korea
Taiwan
Tunisia
Complementing the Classroom Connection program is Academic WorldQuest, an international knowledge competition for teams of high school students. This event challenges high school students to think about critical issues facing the United States and the world. We have organized competitions for 16 years and are currently gearing up for our first "Virtual Academic WorldQuest" in March.
Our work with high school students has also expanded in recent years to include Model UN programs, diplomacy simulations, and other innovative ways to expand awareness about what it takes for public diplomacy to succeed.
Over the years, Global Minnesota has organized study trips to learn more about other nations and cultures. One memorable trip to Morocco a few years ago — when Minnesotan Sam Kaplan was the United States Ambassador there — included a very high-level meeting with King Mohammed VI's senior counselor, André Azoulay.
Fast forward to January 25, 2021, International Day of Education, when Global Minnesota hosted the Director-General of UNESCO, the global chair of the entire International Day of Education initiative for the United Nations. Her name? Audrey Azoulay, and she just happens to be the daughter of the king's counselor Global Minnesota travel participants met in Morocco on their study trip.
For those who become part of Global Minnesota's extended family, it does at times seem like a very small world!