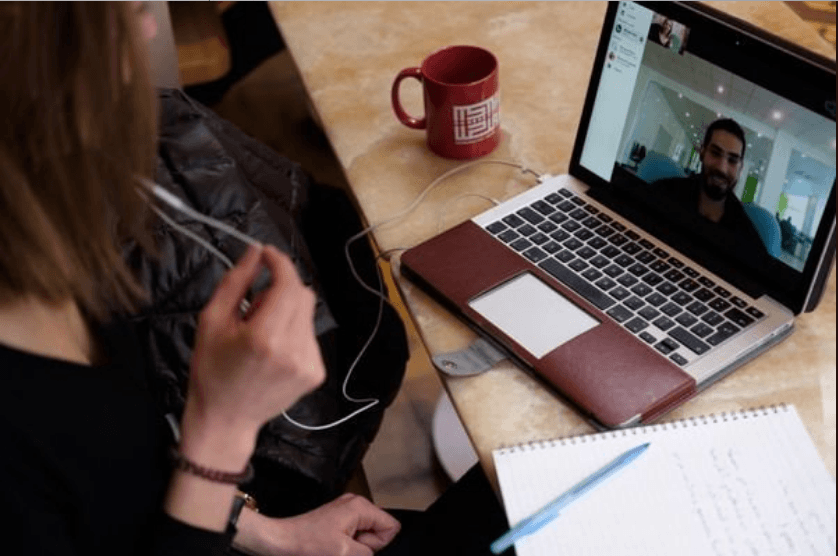 By Danica Harootian
Head of University and K-12 Partnerships at NaTakallam
"I think there are lots of people around the world who would really benefit from listening to the firsthand experiences of someone who has been displaced," reflects a representative from Amnesty Mayfair & SoHo Local Group about their experience with NaTakallam's Refugee Voices program.
NaTakallam ('we speak' in Arabic) is an award-winning social enterprise that connects refugees with remote work opportunities in the language sector, providing them with economic empowerment, purpose, and dignity. By leveraging the digital economy and accessible technology, NaTakallam offers high-quality language tutoring for all levels of Arabic, French, Persian, and Spanish, cultural exchange sessions, and professional translation services in 10+ languages to individuals and organizations worldwide.
While initially born to support Syrians teaching Arabic in 2015, NaTakallam one-on-one language sessions are now also offered in French (with refugees from DRC, Burundi, Guinea), Spanish (with Venezuelans and Central Americans), and Persian (with Iranians and Afghans). Through NaTakallam, displaced people can also earn an income via translation and interpretation services, classroom programming for schools and universities, and cultural exchange sessions.
Since its founding, NaTakallam has enabled displaced people to self-generate more than U.S. $850,000 in total income. NaTakallam's 100+ translators and tutors have worked with 9,000+ individual users in 90+ countries, as well as 200+ companies and organizations, including Buzzfeed, The HP Foundation, and Save the Children, among others.
Moreover, NaTakallam has partnered with 50+ academic institutions and universities (including Columbia, Yale, Georgetown, and more), and 100+ schools to bring affordable, interactive, refugee-led conversations on global issues to world language, social studies, and history classes. Over 8,000 students worldwide have used NaTakallam for powerful, engaging and empathy-building sessions that help students foster global citizenship.
NaTakallam also offers professional translation and transcription services, delivered by displaced persons, in the following languages: English to and from Arabic, French, Kurdish, Pashto, Persian (Farsi/Dari), Portuguese, Somali, Spanish, Tigrinya, Turkish, and Urdu.
For World Refugee Month in June, we had the pleasure of partnering with Global Minnesota to highlight two distinctly powerful and inspiring perspectives from our Refugee Voices guest speakers – Ghaith from Syria and Marianela from Venezuela.
Ghaith spoke about his life experiences, from Syria to Lebanon to Italy, and also had the chance to answer interesting questions from the audience about international relations in the Middle East. As he continues his studies from Italy, he's communicated with over 130 students through NaTakallam programs and noted the following: "Through this small screen, I've made friends all over the world."
After our session entirely conducted in Spanish, Marianela told us that she could feel the empathy of the audience and was grateful to share her story. Marianela shared about her life in Venezuela, the conditions that caused her to leave, and how she hopes Venezuela will change in the future.
A huge and special thanks Global Minnesota, the GHR Foundation (a Global Minnesota organizational member), Latino LEAD, and Human Rights for Venezuela for their partnership this past June. From Minnesota to Syria, especially in these complex times, we are thankful to collaborate in support of refugee livelihoods and meaningful global engagement.