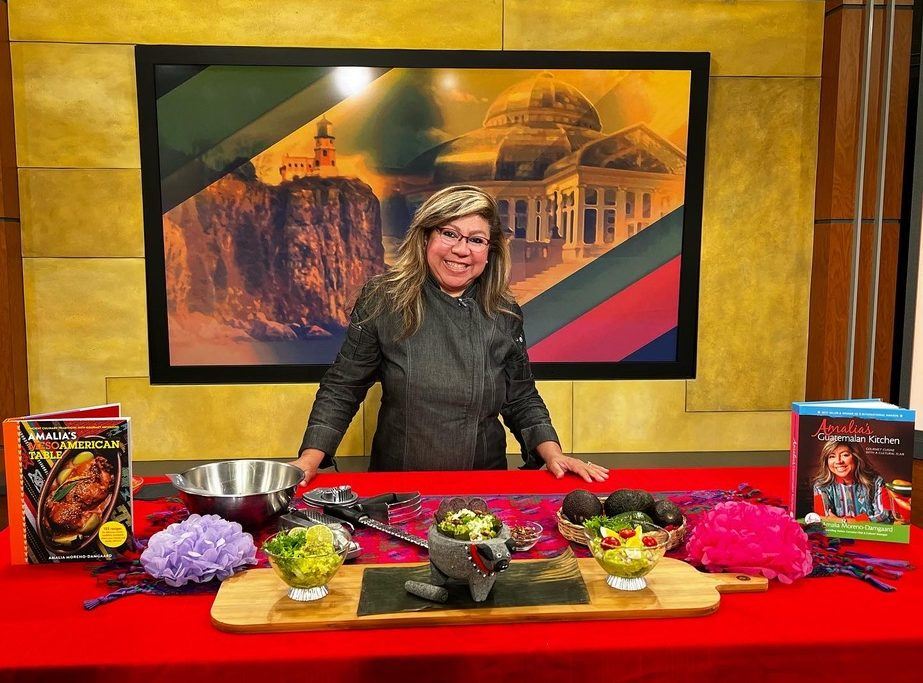 By Award-Winning Author & Chef Amalia Moreno-Damgaard
Every year I anticipate with great enthusiasm how to best celebrate Hispanic heritage. For me, it is very personal.
As an author, speaker, teacher, chef, and media contributor, I use these mediums to tell cultural and anecdotal stories from my lived experiences in Guatemala and my travels in Latin America and around the globe. Grateful and humbled, I feel privileged to see the world from a wider lens that helps enrich the narrative I tell behind the menu.
The Latin demographic has grown to almost 19% (62.1million -an increase of 23% over the previous decade) of the U.S. population. The importance to foster cultural understanding and appreciation to create tolerance, respect, inclusion, and unity, is more important than ever. The more diverse we grow, the deeper the misunderstanding can be of our unique cultural traits.
With more diversity and complexity, I aim to correct the interpretation of our culture –we are not all the same nor consume the same foods, and our Spanish language is nuanced by country. We share some staples, ingredients, and flavors, but our gastronomy is unique by nationality. We're multi -racial, -ethnic, -cultural, and -lingual. Our roots are deeply ingrained in who we are. This translates to home, work, social lives, and in everyday life, even years after having left our countries of origin. Our history unites us while it makes us distinctive because it is not homogeneous.
There are 21 Latin countries in North and South America and the Caribbean comprising over 660 million. This is more than double the U.S. population and over 8% of the world's population, based on recent United Nations estimates. In the U.S. there are immigrants from most of these countries and there are first, second, third, fourth, and beyond generations. They are longing for the connection to their roots while challenging the equality and inclusion status quo amid a current race-equity movement.
My passion and mission are the North Star of my work "to help individuals and organizations of all sizes bridge the awareness gap and develop a broader understanding and appreciation of Latin cultural nuances through traditional gourmet cuisine, while fostering and preserving our traditions through enriching experiences." This Hispanic heritage month, I ask that I open your minds and that you listen attentively with intention. There's ample opportunity for companies, nonprofits, universities, and schools, to extend the Hispanic heritage celebration beyond a month through collaborations and collective genuine interest. Difficult conversations, responsiveness, and daily practice nurture an environment of belonging where everyone feels welcome.
In fulfillment of my dedication to fomenting cultural empathy, I appreciate my partnership of many years with Global Minnesota. I value their work while they value mine, as our missions are complementary. I've been fortunate to work as a business leader and co-founder of Women Entrepreneurs of Minnesota with their Department of State Visitors' Global Entrepreneurs' Program. I've also had the honor of hosting culinary experiences and supporting these fundraising efforts for their annual gala through Amalia Latin Gourmet.
On Wednesday, September 21, from 5:30-7:30pm CT, it will be my pleasure to host a virtual experience and present it to an international audience while I cook with Global Minnesota President Mark Ritchie and World Affairs Events Manager Carolina Gustafson in my home kitchen studio. I extend a cordial invitation to each one of you to join us for a one-of-a-kind, fun, engaging, and delicious time. Learn more and register at this location.
About Amalia
Amalia Moreno-Damgaard is an award-winning author and chef entrepreneur born and raised in Guatemala with a prior career in international banking, based in the Twin Cities.
As a WBENC, nationally certified, woman-owned business enterprise (Amalia Latin Gourmet), Amalia's passion centers around preserving the Latin culture through her work as an author, speaker, consultant, and culinary expert to open minds and hearts and to drive a broader understanding and appreciation through social and business culinary activities.
As a media contributor, Amalia seeks to create social impact to drive cultural understanding as a regular guest on Minnesota Public Radio (MPR), WCCO-TV & Radio (CBS), Kare11 (NBC), KSTP TV5 Twin Cities Live (ABC), Telemundo- and Univision-Minnesota. She is a judge in the series The Great Minnesota Recipe airing on PBS-Duluth (WDSE) now in its second season (Spring 2023) and participated in the series Relish on PBS-Twin Cities Public Television. She is a contestant in Hispanic Top Chef 2022 to take place in Denver on October 15th.
Her passion for culture and cuisine rose from her childhood in Guatemala, where her close relationship with her maternal grandmother taught her entrepreneurial lessons and simple and healthy artisan cooking using local fresh ingredients. Amalia's style is fresh, practical, healthy, and gourmet, blending pre-Columbian, traditional, and Le Cordon Bleu Classic French techniques with her Latin roots.
Amalia allows others to experience the Latin culture through her blend of recipes and cultural insight. Her cookbooks use healthful and classic homestyle cooking as well as inspiration from her cultural culinary exploration in 80+ countries on all seven continents. Early in her career, Amalia refined her teaching skills at all the major cooking schools in the Twin Cities, including Cooks of Crocus Hill, Kitchen Window, Minnesota Landscape Arboretum, Nordic Ware, and the Good Acre.
Amalia is co-founder and chief board advisor of Women Entrepreneurs of Minnesota (WeMN.org), a 501(c)6 nonprofit advancing women's entrepreneurship through mentoring and leadership education where she has mentored many aspiring women business owners. She is president-elect 2023 of the National Association of Women Business Owners-NAWBO and has a long track record of community work, including philanthropy and board service.
She has been recognized widely for her work: Latino Entrepreneur of the Year Award  by the Latino Chamber of Commerce Minnesota; The Woman in Business Champion of the Year Award by the U.S. Small Business Administration Minnesota District Office; The Catalyst Award by Women Venture Minnesota; Thirteen literary awards for her first and second book –Amalia's Guatemalan Kitchen and Amalia's Mesoamerican Table– including the Gold Medal for Best Cookbooks from the International Latino Book Awards, and more. Amalia has a Masters in International Business from St. Louis University. Learn more about Amalia HERE, LinkedIn, Instagram, and Facebook.