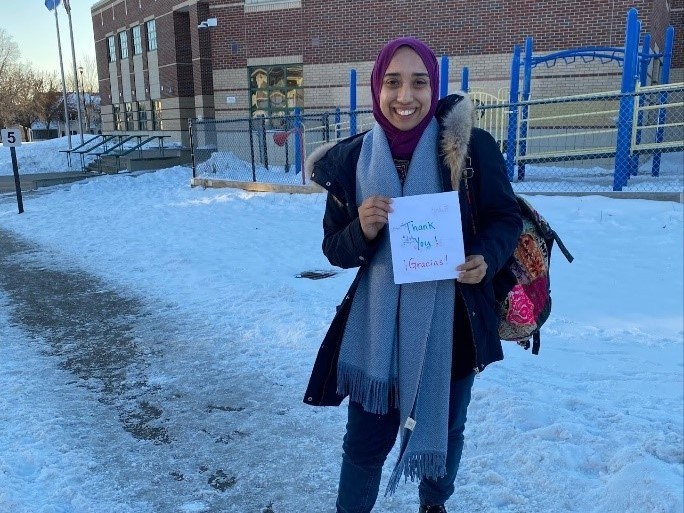 By Fatema El-Ghonemy
I am Fatema El-Ghonemy, a graduate student pursuing a Master's in Public Administration at the American University in Cairo, Egypt. I came to Minnesota as an exchange student for the Fall 2022 semester. I believe that sharing and understanding different cultures is a great way to grow personally and professionally. This is why I was delighted to share my culture to young students throughout Minnesota and to share about Minnesota to my home in Cairo. I started by discussing my culture to others at my university and then decided to search for more opportunities to volunteer and work while studying in Minnesota.
Global Minnesota was the first recommendation among my friends living in Minnesota as the best way to bring my culture to the people of this state. I found the Classroom Connection program to be a great way to share about Egyptian culture to elementary school students. I was fortunate to be resettled with a school very early since I didn't really have a lot of time in Minnesota. In less than a month, Global Minnesota's K-12 Education Manager Sylvia Oxenham coordinated my first meeting with the class teacher to agree on basic points before the first school visit.
The very first visit was all about sharing sides of my life, my family, friends, school and favorite hobbies. Students were amazed at how I got to do many of the same hobbies in Cairo as in Minnesota such as kayaking, biking and discovering nature. The second part of the session was about a regular day at school in Cairo and how there are similarities as well differences between the schools in both cities. The most interesting part for the students was the different types of authentic Egyptian food that people eat in Cairo. I challenged the students to learn how to write their names in Arabic and color the Egyptian flag.
The second classroom visit was about geography and Egypt's most famous landmarks. The most important element for me was linking each landmark to the map and teaching them how to find the locations of each on the map. They also learned the different landscapes Egypt has compared to the United States. The students were amazed that Egypt's land is a desert. The main activity was to color the map and write down the main landmarks in Egypt. In addition to that, I taught them how to count from one to five and how to say hello, thank you and goodbye in Arabic.
The final lesson was about Egypt's culture, famous festivals, celebrations and national food. For this day, they learned all about tassels. Tassels are sometimes worn by children on hoods or caps to protect them from malevolent spirits and ward off demons. Therefore, we had a craft session about tassels and each student got to make one for themselves. Finally, we ended the lessons with traditional Egyptian dancing and learning more about the different people of Egypt. I found the whole experience very interesting and touching. The students were very curious to learn about Egypt and use my three visits to know more about life in Egypt. I greatly valued and appreciated the role Classroom Connection plays between international students and schools in Minnesota and I am glad that I was able to have this unique experience.