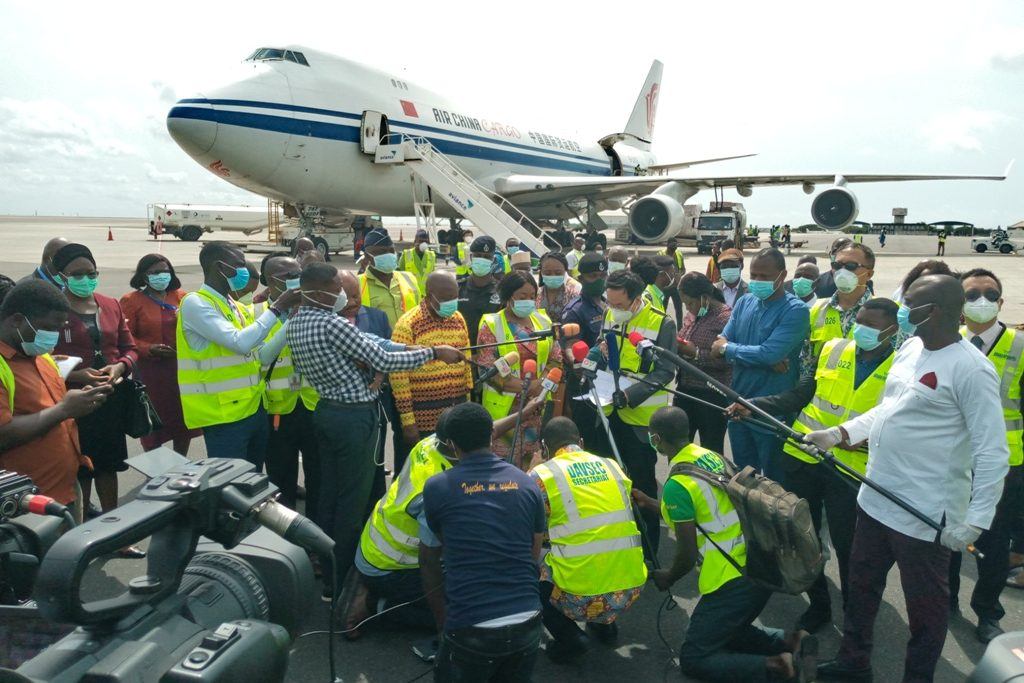 By Gabriel Maanibe
Native Ghanaian, and Office Manager and International Fellow at Global Minnesota
Top photo: Medical supplies arrive from abroad.
As we currently are experiencing a "new normal" due to the coronavirus pandemic, my attention has been drifting towards my home country of Ghana to see how they, and many other African countries, are coping. As a young African immigrant, I had never heard of the term social distancing or self-isolation, as it is the exact opposite of everything my culture teaches. However, as we know, it is the most effective way to control the devastating effects of the pandemic. How will the citizens of Ghana and the rest of the African continent prevail when society is set up for and encourages them to interact as a deeply interwoven community? 
I, among many others, have chastised African governments for their refusal to take adequate and effective measures to combat the pandemic, including the lack of shelter-in-place announcements and encouragement to self-isolate. However, after thinking about the many privileges I have here in the United States that my friends and family do not, I have realized that what we are able to do may not be possible in other places. 
For example, many homes in Ghana do not have in-house sanitary facilities (i.e., toilets and baths), meaning they must share a single outdoor latrine with a number of their neighbors or must use public facilities. How can they avoid contact with others when they must use the same shared space for such a basic need?
The majority of the economically active population of Ghana work in the informal sector as petty traders and apprentices. Many others depend on the few family members who have regular jobs and earn a monthly salary to provide them with a bit of money just to get by. How will those who survive from day to day on the little money that they can earn at market or on the roadside feed themselves and their children if they are told to remain home? Ghana does not have comprehensive and efficient social services such as those in the U.S. to cater for these most affected populations. 
In terms of the country's health systems, 6 out of 10 Ghanaians do not have health insurance and the doctor to patient ratio is 1 to 10,000 – two times greater than the WHO recommendation. What will happen to those families that are not insured or live in the very rural communities that do not actually have an adequate hospital facility or a doctor to care for their patients? Even in urban areas, there are only two testing facilities and less than 20 ventilators for the entire country. 
These issues, which could similarly be affecting many other African countries, lead me to believe that social distancing is a privilege most Africans cannot afford. Turn on the news or read a Ghanaian newspaper and you will see the total economic devastation the current partial lockdown is causing the people. To worsen the situation, the government has dispatched both the police and military to ensure that people are really staying in their homes, and civilians have been brutalized and tortured in the streets for going out to get essential items like food. 
This is not to say that the government of Ghana is completely failing in the fight against the pandemic. They have introduced positive measures such as closing borders, testing, etc. But as we all know, social distancing and lockdowns are really the most effective ways for the world to flatten the curve and overcome the pandemic. If anything good has come from this situation, it is that it has given me the opportunity to be grateful for everything that it offered to me here in the United States. However, as every country in the world is hit by COVID-19 in varying degrees, and are struggling to overcome the impacts, it has turned into "survival of the fittest." As a global citizen, I wonder if others in our incredibly privileged society are thinking about what the impact of COVID-19 will mean for other parts of the world?
More on this Topic