Community Conversations: World Expos
May 25, 2022 @ 6:00 pm
CDT
/
Free
Event Navigation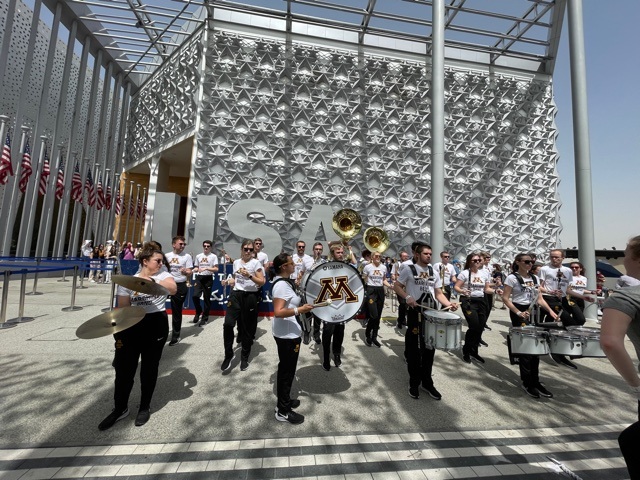 Minnesota is in the final stages of submitting a bid to host the 2027 Expo in Bloomington, Minnesota. Join us for a conversation on a groundbreaking oral history project to explore the future of International Expositions and the United States' role in them. The event will also feature voices from the U.S. Department of State and U.S. citizens who recently took part in the USA Pavilion at Expo 2020 in Dubai.
Expos, also known as World's Fairs, are the world's oldest and largest mega event, held every three-five years in host cities around the world since their inception in 1851 in London. Similar to the Olympics, which are world festivals of sports, Expos are festivals of culture, technology, innovation, design, and human excellence. Past Expos have seen a multitude of countries showcase innovations such as the mobile phone, the X-Ray Machine, and the ice cream cone.
The physical legacies of Expos in New Orleans, New York, San Antonio, and Seattle—four of the last ones hosted inside the United States, between 1960-1984—are well established. But the "felt" legacies are underexplored and powerful. With geopolitics rapidly shifting, these soft power platforms are critical to illuminating U.S. values to international audiences. We also have an opportunity to rethink how we bring Expos back to the United States and do so in a more inclusive way that highlights our country's diversity as a strength of our democracy.
Speakers
Anna F. Kaplan, PhD, (she/her) is a scholar and oral historian in Washington, DC. She earned her PhD in History at American University and MAs in Oral History and Anthropology at Columbia University, studying memory and race in the US South. She has worked on projects with the National Park Service, the DC Oral History Collaborative, and several Smithsonian Institution museums. In addition to working with Global Ties, US, to research the socio-cultural impacts of Expos, Kaplan is the oral historian documenting the history of the State Department's Cultural Heritage Office and the Secretary of State's Register of Culturally Significant Properties. In addition, she is an adjunct professor and Resident Public Historian at American University and the University of the District of Columbia. She also serves as Vice President of the Board for Oral History in the Mid-Atlantic Region and co-chair of the Oral History Association's Diversity Committee and the Equity Audit Task Force. This summer, Kaplan will present a paper on Ophelia Settle Egypt as another ancestor of oral history for the symposium "Assessing the Role of Race and Power in Oral History Theory and Practice."
Anthony Pahigian, has spent more than 30-years as a U.S. diplomat. Since 2019 he has been serving as a Senior Advisor in the Office of International Expositions in the Office of the Under Secretary for Public Diplomacy. Prior to his current position Anthony was the Counselor for Political and Economic Affairs in San Jose, Costa Rica. From 2016 -2018 Anthony was assigned to the U.S. Embassy in then-Astana, Kazakhstan where he was Country Counselor for Public Affairs, serving concurrently as the Deputy Commissioner General at the USA Pavilion at the Astana Expo in 2017. Previous postings in Washington include Political Counselor at the United States Mission to the Organization of American States, Chair of the Secretary of State's Open Forum, director of the Bureau of Democracy, Human Rights and Labor's Office of Policy Planning and Public Diplomacy and director of OSCE policy at the State Department. Anthony has also served overseas in Serbia, Lithuania, Brazil, Slovakia, (POL), Italy and Colombia.
Addy Cross grew up in rural Minnesota with a love for all things international. Completing a Rotary Youth Exchange year in Valencia, Spain during high school, she established a lifelong goal to invest in efforts for intercultural learning. Addy served as an intern and interpreter at a non-profit law firm in Minneapolis throughout college and completed internships at the U.S. Embassies in San Salvador, El Salvador and Phnom Penh, Cambodia as well as participating in academic exchanges to Germany and India. After graduating from St. Catherine University with a degree in International Relations, Addy was awarded a Fulbright research grant and returned to El Salvador to study the determinants of forced displacement for marginalized populations. She further determined her passion for Public Diplomacy while serving as a Youth Ambassador at the U.S. Pavilion at Expo 2020 in Dubai. Addy will begin a Master of Research in Social Anthropology at the University of St. Andrews in Scotland in 2022 and aspires to become a U.S. Foreign Service Officer.
Mark Ritchie is president of Global Minnesota, a nonprofit, nonpartisan organization devoted to advancing international understanding and engagement. A graduate of the Humphrey School of Public Affairs and Iowa State University, he served as Minnesota's Secretary of State from 2007 to 2015. Since leaving elected public service, Mark has led the public-private partnership working to bring the 2027 World Expo to Minnesota, and he has served on the board of directors for LifeSource, Communicating for America, U.S. Vote Foundation, and Expo USA. Mark also is a national advisory board member of the federal Election Assistance Commission and Mothers Against Drunk Driving (MADD) Minnesota. Mark is the appointed Civilian Aide to the Secretary of the Army, representing Minnesota.
If you are registering for this event from outside the United States, please go here.